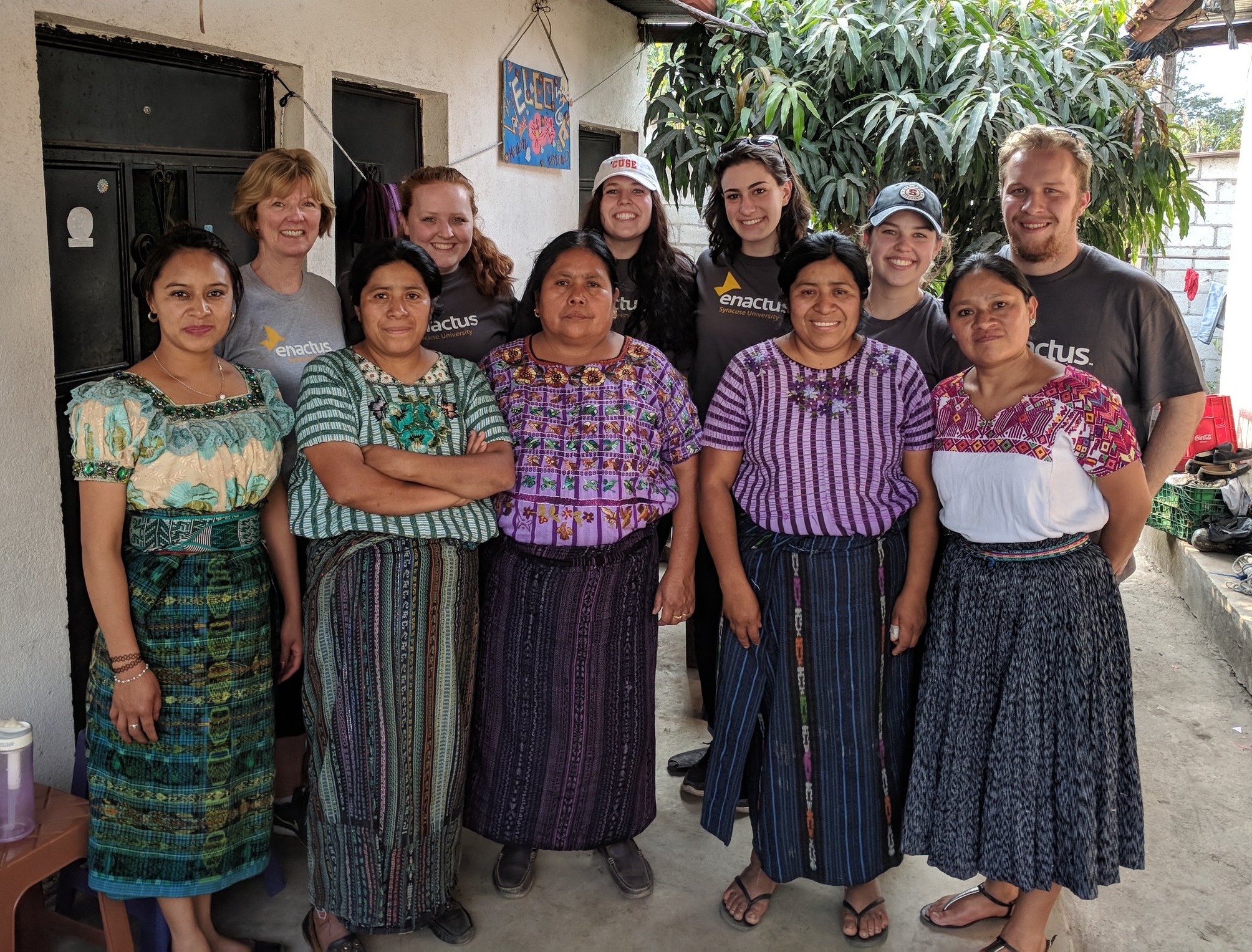 Team G is ending the cycle of poverty and illiteracy in Guatemala through the sale of handcrafted Mayan goods. Together as students, we strive to make this difference through optimizing product development, inventory management, marketing and sales outlets with the greater good at the core of our efforts.
Mayan women are classified as one of the most disadvantaged groups in all of Latin America. Mayan women, who are experts at hand weaving and beading, often lose money selling their products for less than their worth in hopes that they will be able to purchase food for their families.
For over ten years now, our Syracuse University Enactus team has run this project which purchases handmade and hand-woven products from the talented Mayan women of Guatemala and sells them in the United States for a higher profit. Team Guatemala then sends 90% of the proceeds directly back to the women. In our goal to end the cycle of poverty and illiteracy in Guatemala, we have sent back over $155,000, since 2007, which included over 240 scholarships for young girls.
In the past couple of years, our team has focused on expanding our B2B market as well as focusing on smarter selling. This focus has lead us to interact more with the Syracuse community and our B2B channel has also been growing through significant partnerships with companies like Synchrony Financial and Paypal. We are devoted to helping the women of Guatemala live better lives and the results of our actions have made huge impacts in the lives of the women in Guatemala.
PROJECT LEADER: SARAH FERRANTI
Major: Accounting & Finance
Sarah joined Enactus and specifically Team Guatemala because she wanted to to continue to volunteer as she entered college and make a global impact. She has had the opportunity to travel to Guatemala through Enactus, and meet the girls who are recipients of the scholarships Team Guatemala provides. Sarah expressed that it was a wonderful experience to be able to see, first hand, the impact that Syracuse Enactus is able to make on the lives of these families. She says that the Mayan women of Guatemala are so grateful for Enactus' help and it continually has motivated her to continue the work that Team Guatemala participates in.